Fighting for Bicycle Accident Victims For Over 30 Years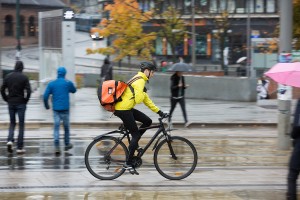 Bicycles are affordable and popular methods of transportation for a wide range of individuals throughout the United States, especially in the city of Chicago. Although typically restricted to streets rather than highways, bicyclists make up a large percent of commuting individuals who, due to the lack of protective features, are a vulnerable group when involved in collisions.
A bicyclist colliding into an automobile usually results in more injury and damage done to the bicyclist than the car driver. This is because Chicago bike riders do not have as much protection as the driver who caused the car accident. In many of these scenarios, the damage leads to serious injuries, including brain or spine injury, disfigurement or paralysis. In some cases, the bicyclist may be killed, and the family may have a wrongful death case against the negligent driver. Car drivers will often have insurance providers that can help cover damages, but in order to obtain the necessary amount of compensation for the injuries sustained, obtaining legal representation from bicycle accident attorneys is critical to achieve result.
Bicycle Safety Tips
Many bicycle accidents in Chicago are preventable. You can take some measures to enhance your safety while bicycling, but if you're injured in a bike accident with a negligent driver in the Chicago area – despite your safety efforts – speak right away with experienced Chicago bicycle accident lawyer Joseph Dooley. Injured victims of negligent drivers have the legal right in Illinois to be reimbursed for medical costs, lost wages, and other injury-related expenses. But, recovering this compensation is much more difficult if you choose not to work with experienced bicycle accident attorneys.
Bicycle riders should routinely follow these basic safety tips, and parents should ensure that their children understand these safety measures:
Cyclists should always wear the right bicycle helmet for their head. Heads really do come in different sizes and shapes. Your helmet should be snug, level, stable, and comfortable.
Make sure your bike fits you before you hit the road. Adjust the seat and the handlebars until you feel the right combination of control and comfort.
Routinely check your tire pressure and brakes.
Keep both hands on the handlebars as much as possible. If you must carry something with any weight, use a basket or a backpack. Never put significant extra weight on only one handlebar; it makes your bicycle difficult to steer and control.
Ride in the same direction as motorists on the street. Riders moving against traffic are a leading cause of bicycle accidents. Riding with the flow of traffic gives you added visibility and gives drivers more time to react to you.
Cyclists are required to obey all traffic signs, signals, and laws of the road that vehicles must follow as well.
If you ride on a sidewalk or along a crosswalk, obey all pedestrian signs and signals.
Use hand signals to communicate with drivers, such as signaling when you are turning left or right.
Stop when approaching a stopped school bus with its stop-arm out.
Research shows that neon and fluorescent clothing is one way to increase your visibility in the daytime. If you must ride at night, you probably can't have enough lights and reflectors on your bike.
Drivers should always stay alert for bicyclists; someone on a bicycle is essentially defenseless against two or more tons of steel rolling at 30 or more miles per hour.
While riding a bicycle in or near Chicago, if you or someone you love is hit and injured by a negligent car, truck, or bus driver, seek medical attention immediately, and then contact an experienced Chicago bicycle accident lawyer as quickly as possible. Don't sign any insurance company documents or agree to any settlement before consulting with Chicago bicycle accident attorney Joseph M. Dooley. If you can take photos of your injuries and the site of your bicycle accident, do it. Keep and make copies of any police reports or medical paperwork, including test results and medical bills.
"Near Miss" Bicycle Accidents
You've probably heard that close only counts in horseshoes, but it can also count if you are injured on a bicycle while trying to avoid a collision with a negligent driver. If you swerve to avoid hitting a negligent driver, and you crash, or if another vehicle crashes into you, the negligent driver may still in some instances be legally responsible. Whether an actual impact happens or not, if you are injured on a bicycle because of a negligent motorist in or near the Chicago area, discuss your case at once with experienced Chicago bicycle accident attorney Joseph M. Dooley.
Proving a connection between a driver's negligence and a bicyclist's injury is a critical part of every bicycle-related personal injury case. Drivers predictably claim that they did nothing wrong and that the bicycle crash was none of their responsibility. In personal injury cases involving bicyclists, the burden of proving the connection between a driver's negligence and a bicyclist's injury is a burden borne by the plaintiff. Without eyewitness or video evidence of the driver's negligence, it may be difficult to prevail in such cases.
In the Chicago area, if you are injured by a negligent driver while riding your bicycle – and there is no impact between your bike and the negligent driver's vehicle – do everything you can to identify the driver. If he or she stops, try to obtain the name, driver's license number, and insurance information. At least try to get a license plate number and a vehicle description. Then discuss your case with experienced Chicago bicycle accident attorney Joseph M. Dooley. You'll get the frank and candid legal advice you need, and if you have a provable personal injury claim, attorney Joseph M. Dooley can fight on your behalf for justice. After any bicycle accident with injuries in the Chicago area, contact Chicago bicycle accident attorney Joseph M. Dooley immediately.
Chicago Bicycle Accident Attorney
Hello, I'm Joseph M. Dooley, and I am a Chicago bicycle accident attorney with more than 30 years of experience representing individuals involved in bicycle accidents or who suffered bike injuries. With bicycle accidents, there can be a wide spectrum of factors that play roles in the accident. Defectively designed bicycles or negligent car drivers are common scenarios that lead to accidents. When investigating my clients' cases, I make sure to cover all of these grounds throughout the discovery process.
With my knowledge and experience of insurance provider strategies, I can help prepare my clients' cases and, if necessary, take them to trial in Chicago, Illinois.
If you or a loved one has been injured in a bicycle accident, contact The Law Office of Joseph M. Dooley in Cook County today for more information on how I can help you.
Contact a Chicago Bicycle Accident Attorney Today
If you seek legal representation or would like more information about my legal services, please contact a knowledgeable Chicago bicycle accident attorney today to set up your free initial consultation. I have represented people in a wide variety of personal injury cases, including premises liability, construction accidents, motor vehicle accidents, bicycle accidents and more. Call me at 312-236-7282 or contact my Chicago law firm by filling out the online form on this website.