Fighting For Medical Malpractice Victims Across Chicago
A patient that seeks medical care from a physician or other health care provider deserves to receive medical help, not further physical harm. You've probably seen medical malpractice stories in the news or read about them in the paper. Unfortunately, these accidents are all too common. In the event that a patient is injured by his or her physician or other health care provider as a result of negligent care, it becomes necessary to hire a medical malpractice attorney that can help the patient obtain compensation for the injury.
An experienced Chicago medical malpractice attorney conducts a thorough investigation of all the facts pertaining to the case to effectively prove the acts of professional negligence. Chicago medical malpractice attorneys will help you hold the doctors, nurses, or hospital accountable for their medical negligence.
Patients Are Protected
One of the safeguards against medical malpractice in Illinois is the Illinois Medical Practice Act of 1987. This law governs the practice of medicine throughout Illinois and authorizes enforcement by the Illinois Department of Financial and Professional Regulation (IDFPR). If you've been injured by medical malpractice anywhere in the Chicago area, contact experienced Chicago medical malpractice attorney Joseph Dooley as quickly as possible. Medical malpractice lawyers can help you understand your rights as a patient and determine liability. The legal duties of the IDFPR include:
establishing medical education and fitness requirements for obtaining a medical license
establishing and enforcing penalties for practicing medicine without a license or practicing beyond the scope of one's license
establishing specifics about which patient care duties may be performed by unlicensed individuals working under the supervision of a licensed physician
requiring annual refresher courses to ensure that healthcare professionals continue their medical education throughout the course of their careers
Illinois residents harmed by an unqualified person practicing medicine – or by a qualified person practicing medicine negligently – may be eligible to receive compensation for injuries through a medical malpractice lawsuit. Whether you or your child has suffered from a birth injury, brain injury, or any other type of injury caused by malpractice, it's important to understand your rights and the legal resources available to you.
Representation of Clients Injured by Professional Negligence
Hello, I'm Joseph M. Dooley, and I am a Chicago medical malpractice attorney with more than 30 years of experience representing individuals. As a personal injury category, medical malpractice often involves surgical errors or negligent diagnosing and treatment including:
Misdiagnosis of cancer
Failure to diagnose and/or treat
Medication errors
Surgical mishaps
Birth injuries
Brain injuries
Wrongful death
Misdiagnosis
One of the most common forms of medical malpractice is a physician that incorrectly diagnoses his or her patients' conditions. Failure to diagnose can lead to permanent disability, pain and suffering or even wrongful death. Most people start to believe they've been misdiagnosed only after they begin a medical treatment, such as taking a prescription drug, and their symptoms get worse rather than better. Others immediately feel they are victims of misdiagnosis; they may sense the doctor did not take them seriously for some reason. The poor, the uninsured, and minorities are the groups most likely to feel doctors aren't taking their complaints seriously.
Researchers discovered that pneumonia, cancer, acute decompensated heart failure, acute renal failure, and urinary tract infections are the most commonly misdiagnosed conditions. In 80 percent of the misdiagnosis instances, doctors did not consider all of the possibilities, thus missing the correct diagnosis. A doctor is supposed to create a list of possible diagnoses and test the likelihood of each by making more observations, asking detailed questions, ordering tests, or sending the patient to a specialist.
Patients that provide their trust to doctors that provide them with negligent care deserve aggressive legal representation to obtain maximum compensation for their personal damages. However, not all misdiagnoses count as medical malpractice. If you file a malpractice lawsuit, you and your attorney must prove that:
a doctor-patient relationship existed
the doctor did not follow the accepted professional standard of care
the doctor's failure to follow the standard of care caused actual injury to the patient
It's a wise practice to keep notes and records of visits to doctors, prescriptions, and treatments. If you believe you have a disease or some other medical issue that was not taken seriously, see another doctor to obtain a second opinion, and bring your complaint to an experienced medical malpractice attorney.
Misdiagnosis can lead to the wrong medications being prescribed or the wrong procedures being performed. It can mean proper treatment is delayed, often leading to serious or even fatal complications or injuries. If you've been injured – or believe you've been injured – because of a medical misdiagnosis in the Chicago area, now or in the future, act at once to protect yourself. Discuss your case as soon as possible with experienced Chicago medical malpractice attorney Joseph Dooley.
Wrong Site Surgery
The most frightening kind of medical malpractice is called wrong-site surgery (WSS). WSS includes surgery performed on the wrong side or part of the body, the wrong surgical procedure, and surgery performed on the wrong patient. A surgery performed on the wrong site or wrong person is usually held compensable under malpractice claims. In other words, if you're a victim of WSS, and you file a malpractice claim, you're likely to win (although no guarantee can ever be made in any specific case).
Don't wait if you've been injured by negligence during a surgical procedure anywhere in the Chicago area; discuss your malpractice case at once with experienced Chicago medical malpractice attorney Joseph Dooley.
Dental Malpractice
When a dentist acts irresponsibly or causes an injury to a patient through carelessness or negligence, it's dental malpractice. If you or a family member has suffered an injury anywhere in the Chicago area while under a dentist's care, you may qualify to seek financial compensation through a personal injury suit. Speak at once to experienced Chicago medical malpractice attorney Joseph Dooley. Injuries that most commonly occur as the result of dental malpractice include:
Improper or inappropriate surgery
Damage to nerves in the mouth, jaw, and tongue
Overmedication (including anesthesia)
Infections and allergic reactions
Injuries to the jaw and other bones
If you or a family member has suffered from any of these injuries while being treated by a dentist, or if your dental troubles have been insufficiently addressed by your dentist, speak at once with a good Chicago medical malpractice lawyer.
Arbitration
While many injury victims have to take a healthcare provider to court, sometimes an acceptable settlement can be achieved through arbitration. Potentially, the arbitration option can help you work toward a quicker settlement through a procedure that's less stressful and acrimonious than a courtroom trial.
In arbitration, the parties agree to have their case heard by an impartial arbitration judge outside the court system. The Illinois Health Care Arbitration Act governs arbitration in medical malpractice cases and sets forth these rules:
Arbitration cannot be a condition imposed by healthcare professionals before providing services.
All parties must agree to arbitration and be present during proceedings.
Arbitration does not invalidate the rules or processes involved in courtroom trials, including statutes of limitations, rules of evidence, cross-examination of witnesses, and the right to representation by an attorney.
The determination of the arbitration judge is binding.
Plaintiffs must receive a copy of the signed arbitration agreement they've signed and re-affirm it, or the agreement is voided.
Arbitration can help those injured by medical malpractice to avoid the courts and resolve their claims more expediently, but arbitration isn't always right for every malpractice case. A knowledgeable malpractice lawyer can help you understand the advantages and disadvantages of arbitration for your own malpractice case.
Chicago Medical Malpractice Attorney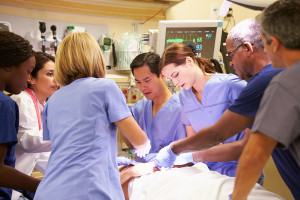 Experience is a key factor when choosing a Chicago medical malpractice attorney. I have over 30 years of experience providing legal advice in this field. I worked defending doctors and hospitals for several years, and I understand how hospitals and insurance companies defend these cases.
My defense experience helps me to give you the legal representation you need to get the compensation that your injury deserves. My law firm, The Law Office of Joseph M. Dooley, located in Chicago, Illinois, can ably represent you in any medical malpractice case and has years of experience helping clients reach the settlements they deserve. If you have been injured as a result of a medical accident, there's no better time than the present to contact an attorney.
Contact a Chicago Medical Malpractice Attorney Today
If you seek legal representation or would like more information about my legal services in Cook County, contact my office today to set up your free initial consultation.  Please call 312-236-7282 or message my Chicago law firm by filling out an online evaluation form on this website.