Fighting for Brain Injury Victims in Chicago For Over 30 Years
In major and serious accidents resulting in brain or spinal cord injuries, obtaining an experienced Chicago brain injury lawyer that can aggressively handle your case and help you collect compensation for your injuries becomes extremely important.
Brain and spine injuries such as paralysis have an enormous impact on a person's life. It is necessary to obtain compensation that can fully cover all the associated costs such as medical or rehabilitative treatment, loss of work and other related expenses.
Hello, I'm Joseph M. Dooley, and I am a Chicago brain injury lawyer with more than 30 years of experience. As a Chicago brain injury lawyer, I have handled a wide variety of cases ranging from whiplash injuries to paralysis and brain injuries. I provide aggressive, zealous prosecution of my clients' rights. In my legal practice, I have represented individuals in cases involving:
Paraplegia
Quadriplegia
Herniated disks
Traumatic brain injuries
Traumatic spine injuries
Brain injury may be tricky to diagnose; in some people, it isn't recognizable or apparent until weeks or months later. Brain injury symptoms are often slight to begin with but can develop into something more severe over time. And even minor injuries may cause inexplicable personality and attitude changes, irrational mood swings, cognitive troubles, and memory lapses. Frequently, the signs of brain trauma or concussion syndrome can't be seen at all, even by family members. Proper diagnosis and treatment are imperative in brain injury cases; tests and evaluations will be required to determine the ongoing, underlying situation and the likely effect the brain injury will have on the victim's future.
If you were injured because of someone's negligence, you may be entitled to compensation. For example, if you suffered a brain injury because of a slip and fall accident on someone's property, the property owner may be liable under the premises liability law. Experienced brain injury lawyers will fight to have all your costs reimbursed to you: medical bills and lost wages, both current and future. In some extreme cases, plaintiffs may also win punitive damages. A good Chicago personal injury attorney can assess your situation, explain your legal options, and guide you through the complicated legal filings, hearings, and procedures.
A brain injury is sometimes tough to demonstrate to juries; complex issues, both medical and legal, are sometimes involved. If you've been in a traffic or workplace accident, then blurred vision, severe headaches, hearing loss, and memory loss may be signs of undiagnosed brain injury. An experienced brain injury attorney will work with doctors, insurance companies, and the other specialists you'll need to see regarding your diagnosis and treatment. If you've suffered brain damage in a traffic or workplace accident, find a brain injury attorney who will represent you, and do it immediately. Your health and your loved ones are your top priorities.
Traumatic Brain Injuries
Traumatic brain injury (TBI) is a leading cause of death and disability in Illinois and across the United States. Those who survive a traumatic brain injury may be partially or entirely disabled for the rest of their lives. The effects of TBI can include impaired thinking abilities, impaired mobility, memory loss, impaired vision or hearing, and personality changes including mood swings and depression. The most serious encephalon injuries – resulting in permanent disability or death – are usually caused by traffic accidents. If you or someone you love suffers a traumatic encephalon harm in a traffic accident in the Chicago area, discuss your legal rights and options – including a possible personal injury lawsuit – with experienced Chicago encephalon injury attorney Joseph M. Dooley.
A traumatic brain injury may be caused by a bump, blow, or jolt to the head or by a penetrating head injury that disrupts normal brain function. TBIs can occur as a result of car accidents, motorcycle accidents, truck accidents, pedestrian or bicycle accidents, or slip and fall incidents. Work-related incidents, such as those on construction sites, may also lead to TBIs, but unfortunately workers compensation will not be enough to cover the expenses of this severe injury.
The severity of a TBI may range from "mild" – mostly concussions – to "severe," requiring extensive treatment and rehabilitation. Doctors may describe a concussion as a "mild" brain injury because concussions are usually not life-threatening. Even so, the effects can be quite serious. Among all age groups, traffic accidents are a leading cause of TBI, and motor vehicle crashes are the single leading cause of TBI in the 15-to-44 age group.
A good brain injury lawyer can assess your case and work with accident reconstruction experts, medical specialists, and others to prove your personal injury claim. Quality, long-term care for TBI victims can be considerably expensive, as you may imagine, but good brain injury attorneys will fight aggressively for a settlement with the maximum available compensation. If a loved one has passed away after suffering a brain injury, you may be able to file a wrongful death claim to seek justice against the negligent parties. To discuss possible settlements, contact an attorney who knows the legal process well.
Don't Ignore Concussions
About 170,000 children and teens suffer brain injuries every year playing team sports and pursuing other recreations, according the Centers for Disease Control and Prevention (CDC). Concussions account for about 9 percent of all high school sports injuries. Parents, coaches, and athletes should learn the symptoms of a concussion and take the measures needed to prevent concussion injuries. A concussion is a brain injury caused by a bump, blow, or jolt to the head. Concussions can occur from any sudden blow that causes the head to snap rapidly back and forth. Someone suffering a concussion may experience disorientation, headaches, dizziness, moodiness or behavioral changes, memory loss, nausea, or double vision. Fewer than 10 percent of concussion injuries result in any loss of consciousness. Victims may not experience symptoms until hours or even days later. Most people with a concussion will recover quickly and fully; for some victims, however, the symptoms of a concussion can last for weeks or longer.
Even if you sustain only a mild concussion, the physical injury to your encephalon will be visible months later on a brain scan. Mild brain injuries, once thought to be trivial and quick to heal, turn out to be far more dangerous and long-lasting than doctors once thought. If you sustain any brain injury in a traffic accident in the Chicago area, discuss your rights and options at once with experienced Chicago encephalon injury attorney Joseph M. Dooley. With more than 30 years of legal experience, Joseph Dooley has sought justice for scores of Chicago-area brain injury victims, and he knows what it takes to prevail on your behalf.
Experienced Chicago Brain Injury Lawyer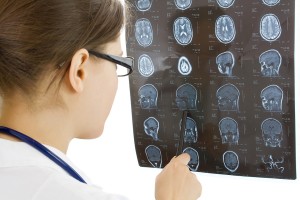 As a Chicago brain injury lawyer, I work with each and every client on a personal level to obtain maximum compensation for his or her personal damage and losses. I prepare my clients' cases for trial, and I collaborate with expert medical examiners to evaluate the current and future needs of my clients. Contact The Law Office of Joseph M. Dooley today for more information on how I can help you.
Contact a Chicago Brain Injury Lawyer Today
If you seek legal representation in Cook County or would like more information about my legal services, contact my office today to set up your free initial consultation. At my firm, I'm the only attorney, meaning that when you hire me as your Chicago brain injury lawyer, I'm the only lawyer that will be handling on your case from start to finish. I will provide you with honest and realistic expectations as to the expectation of your case. Please call me at 312-236-7282 or contact my Chicago law firm online.