An Experienced Chicago Cell Phone Accident Lawyer, Fighting For Victims For Over 30 Years.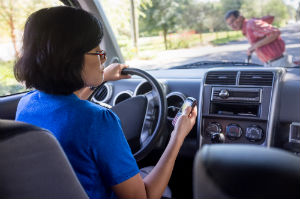 With the advent of text messaging, more and more individuals send text messages rather than calling. According to statistics, texting while driving is 23 times more dangerous than other forms of negligent driving, including drunk driving. Drivers typically take their eyes off the road for 4.6 seconds while texting. At 30 miles per hour, you travel more than the length of a football field in 4.6 seconds. The AAA Foundation also reports that drivers veer out of their lane 10% of the time they are texting. Because drivers are so distracted with their phones, motor vehicle accidents often occur–and they can sometimes be fatal.
Texting while driving is the primary cause of crashes involving cell phones, but talking on cell-phones – even "hands-free" phones – can be quite dangerous. The AAA Foundation has found that even talking hands-free increases "cognitive" distraction, meaning tunnel vision and decreased attention to road conditions. To put it plainly, any and all cell phone use while driving is dangerous.
Although texting while driving is still legal throughout most of the United States, the track record for car accidents that have resulted from these phone practices definitely concludes that this is an act of negligent and at times even reckless driving. Failure to pay attention to the road can lead to serious consequences for both the distracted driver and other drivers on the road.
Depending on the severity of the accident, the victim could suffer minor scrapes and bruises or something as severe as a brain or spinal injury. Motorcycle accidents are often the most dangerous since the driver does not have as much protection. If your loved one has been killed in a distracted driving accident, you could be able to file a wrongful death claim against the driver. If you or a loved one has been injured in a car accident as a result of a distracted cell phone driver, it is in your interest to contact an experienced and effective Chicago cell phone accident attorney.
In the event that another driver, motorcyclist, bicyclist or pedestrian has been injured by a driver who was distracted by text messaging, dialing or talking on a cell phone, it is necessary to hire legal representation that can help obtain compensation for the injuries sustained. Speak to experienced lawyers in the state of Illinois to determine liability in the accident and work on receiving the compensation you deserve for your injuries.
Cell Phones & GPS Targeted by Lawmakers
After several decades of decline, attorneys have found that automobile accidents are again on the rise. Legislatures around the nation are working to enhance traffic safety by outlawing and hopefully eliminating common distracted driving habits. These efforts include full bans on cell phone usage while driving including a ban on hands-free devices. In some jurisdictions, even eating while driving has become suspect and may soon be banned. However, that has not stopped serious auto, motorcycle, and truck accidents from happening on a daily basis.
In addition to cell phones, the National Highway Traffic Safety Administration (NHTSA) is also working to ban the moving map feature of GPS navigation devices. GPS devices use a moving icon to show drivers their location as they travel, and the devices update constantly so a driver can see where he or she is on a street map.
Distracted driving is a monumental problem that needs to be addressed more fully by the law. It's not just cell phones, of course; other dangerous driving distractions include eating, drinking, grooming, conversations with passengers, and adjusting the radio. How far lawmakers can go or will go to discourage these behaviors remains to be seen.
Despite your most careful efforts, if you are in a distracted-driving accident, protect yourself; don't admit any fault or sign any insurance papers prior to speaking with experienced cell phone accident attorney Joseph Dooley. Take pictures of your injuries and the damage to your vehicle. Most importantly, if personal injury occurs, it's imperative that you speak to an experienced cell phone accident attorney as quickly as possible.
A good cell phone accident lawyer will defend your rights, advise you about your legal options, and fight to win every cent of the compensation you deserve for your injuries. In any accident, your legal rights and your physical health must be your top priorities. If you've been injured in an auto accident caused by a distracted driver, please speak promptly with experienced cell phone accident attorney Joseph Dooley to discuss filing a personal injury claim for damages.
Experienced Chicago Cell Phone Accident Lawyer
Hello, I'm Joseph M. Dooley, and I am a Chicago cell phone accident lawyer with more than 30 years of legal experience in all types of driver negligence claims.
As your Chicago cell phone accident lawyer, I can help you take action against the distracted or reckless driver and help you collect the maximum compensation to cover expenses such as medical or rehabilitative treatment, so you can move on from the accident. I will conduct a thorough investigation of the case, including proving the negligent driving through reviewing the at-fault driver's cell phone records at the time of the collision.
If you or a loved one has been injured as a result of a distracted driver who was text messaging, dialing or talking on a cell phone, contact The Law Office of Joseph M. Dooley today for more information on how I can help you.
Personalized Attention and Dedicated Representation
As an advocate for my clients who have been injured as a result of a distracted driver, I believe it is important to be available to my clients and their families. I maintain a low volume of cases so that I can treat your personal injury case with the care and attention it deserves.
My counsel to anyone involved in an accident resulting from cell phone use is the identical advice I would offer any crash victim; don't sign any insurance forms or admit any fault before speaking with a personal injury attorney. If you can, get photos of your injuries and the damage to your vehicle. Make copies of any medical, police, or insurance reports. And consult a personal injury attorney as quickly as possible. In any traffic accident, protecting your rights and your well-being must be your number one concern. And please, don't text while driving.
I am the only attorney at my law firm, so I will handle every aspect of your case from start to finish. This one-on-one involvement means you can be assured that I will be familiar with every aspect of your case, and my contingent fee arrangement ensures that I will do everything in my power to get you full compensation for your injuries.
Contact a Chicago Cell Phone Accident Lawyer Today
If you seek legal representation or would like more information about my legal services in Cook County, Illinois, contact my office today to set up your free initial consultation. Call me at 312-236-7282 or contact my Chicago law firm online. I have received the distinction of being AV Preeminent peer review rated*, the highest rating under Martindale-Hubbell's peer review rating process.