Fighting For Chicago Motorcycle Accident Victims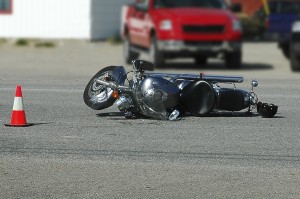 Motorcycles have become popular forms of transportation nationwide and are found on most highways and streets. The lack of heavy protective features is often described as a liberating aspect of driving or riding a motorcycle.
This very same feature, however, can lead to serious physical injuries in the event of an accident. Even the most cautious motorcycle riders can suffer extreme brain injuries, disfigurement or even wrongful death if they are involved in motorcycle accidents with other vehicles. Unlike a car accident, motorcyclists do not have airbags and seat belts to protect them during a collision. A number of factors can cause motorcycle fatalities, including:
Careless or reckless driving
Negligence
Inexperienced driving
Poor weather
Driving while impaired
Driving while distracted
Speeding
Poor road conditions
In many of these accidents, the insurance companies rely on the injured individuals' lack of knowledge or experience with filing personal injury claims and personal injury law as a method of limiting the amount of compensation paid out. In difficult circumstances, an experienced motorcycle accident lawyer can be a valuable ally. If your injury has been caused by a negligent driver, speak to accident attorneys in Chicago as soon as possible so you can get the full compensation you deserve.
In order to obtain just compensation for your pain and suffering, lost time from work, medical bills, disability, disfigurement, and future pain and suffering, it is important to hire legal representation that can effectively obtain your compensation from the at-fault driver. Injury lawyers can help you fight for a settlement that will provide you with the financial resources you need to get on with your life.
Our advice for anyone involved in a motorcycle crash is the same advice we would give any traffic accident victim; protect your rights. First, take care of yourself and any people who have been injured as a result of the crash. Do not admit to any fault or sign any insurance forms before consulting a motorcycle accident attorney. If possible, take photos of any injuries or any damage to your vehicle. Keep copies of any police reports, medical, and insurance paperwork pertaining to the crash. Most importantly, contact a motorcycle accident attorney as quickly as possible. In any crash, accident lawyers tell clients that protecting their health and legal rights must be their top priority.
Motorcycle Safety Tips
Riding a motorcycle can be tremendous fun as well as an economical way to get around. The problem is when the line between fun and danger gets crossed and someone is seriously injured – or worse. According to the U.S. Department of Transportation, motorcyclists are actually 35 times more likely to be in a fatal traffic collision than passengers in automobiles. There are measures you can take to enhance your safety while motorcycling, but if you're injured in an accident with a negligent driver in the Chicago area – despite your safety efforts – speak at once with experienced Chicago motorcycle accident attorney Joseph Dooley. Injured victims of negligent drivers have the legal right in Illinois to compensation for medical treatment, lost income, and other injury-related expenses.
Experienced motorcyclists already know most of these precautions, but a reminder can't hurt. If you're a relatively new motorcyclist, here are several suggestions that can make you somewhat less likely to suffer an injury:
Don't cross the intersection the moment the light changes. Take just a moment to ensure that all the vehicles have stopped. In Chicago alone, negligent drivers run through red lights every day. Do not assume that other drivers will stop until you see them stop.
"Blind spots" are still the key factor in far too many accidents. Staying aware of the cars around you – and their blind spots – is critical. Assume that other drivers can't see you at all unless they indicate otherwise.
You also want to avoid drivers making "blind turns," and they do this all the time. The most frequent blind turns are when drivers attempt to move out of driveways or parking lots. When their vision is obstructed by a line of parked cars or some other obstacle, drivers typically roll very slowly into a traffic lane until they can see it clearly. Even if the driver is trying to be careful, this maneuver can be disastrous if you're an oncoming motorcyclist.
Motorcyclists should take advantage of safety equipment beyond the helmet. Some of the worst injuries in motorcycle wrecks are collarbone injuries; a neck collar offers significant protection. Gloves are an essential, and so are boots, although you'll pay slightly more for the quality products that offer real protection.
Obviously, the number of motorcycle crashes, injuries, and fatalities could be significantly reduced if all motorcyclists wore helmets. However, motorcycle helmets are a very contentious topic. Many motorcyclists are convinced that helmets obstruct their vision and their ability to avoid accidents. Yet, it has been proven over and over again that when a motorcycle accident happens, those wearing helmets are more likely to survive and to be injured less seriously. The federal Centers for Disease Control and Prevention (CDC) found that motorcyclists have a greater likelihood of not breaking their jaws or breaking their noses if they are wearing helmets at the time of the accident. The head researcher, Dr. Joseph Crompton, determined that helmeted riders had a 60 percent lower chance of suffering facial injuries than riders without helmets. Despite this research, many motorcyclists still choose to take their chances and go without helmets.
If you or a loved one has been injured in a motorcycle crash, a good motorcycle accident lawyer can give you the advice that you will need and explain the legal steps you will have to take to recover your losses. If you are injured by a negligent driver while motorcycling anywhere in or near Chicago, speak immediately to experienced Chicago motorcycle accident attorney Joseph Dooley.
An Experienced Chicago Motorcycle Accident Lawyer
Hello, I'm Joseph M. Dooley, and I am a Chicago motorcycle accident lawyer with more than 30 years of experience representing individuals in motorcycle injury cases.
Through The Law Office of Joseph M. Dooley, I strive to obtain maximum compensation for your injuries, and I aggressively prosecute your case. I have years of experience representing injury victims at trial to obtain the settlements they deserve. If you or a loved one has been injured in a motorcycle accident, contact my office today for more information on how a Chicago personal injury lawyer can help you.
Contact an Chicago Motorcycle Accident Lawyer Today
If you seek legal representation or would like more information about my legal services, please contact a knowledgable Chicago motorcycle accident lawyer today to set up your free initial consultation. Besides motorcycle accidents, I have also represented clients who have been involved in truck, pedestrian, bicycle, and car accidents, slip and fall incidents, and premises liability issues. Call me at 312-236-7282 or contact my Chicago law firm by filling out the free case evaluation form on this website.